Where has the time gone? I swear yesterday it was February and suddenly it's July! I know it's a little late, but better late than never, right? Here are all the books I read in April and May.
'Gather Together In My Name' By Maya Angelou 
Non-Fiction
4 out of 5 stars
'In the sequel to her best-selling I Know Why The Caged Bird Sings Maya Angelou is a young mother in California, unemployed, embarking on brief affairs and transient jobs in shops and night-clubs, turning to prostitution and the world of narcotics.'
After reading her first autobiography in February I was excited to read the next. Continuing on from where 'I Know Why The Caged Bird Sings' left off, Maya is a single mother trying to provide for her son by any means necessary. She works in restaurants, shops and eventually runs a brothel. I loved seeing Maya's story progress, and although this might not be an easy read it's a story of her strength and resilience.
'A Tale For Time Being' By Ruth Ozeki 
Fiction
4 out of 5 stars
'In Tokyo, sixteen-year-old Nao has decided there's only one escape from her aching loneliness and her classmates' bullying, but before she ends it all, Nao plans to document the life of her great-grandmother, a Buddhist nun who's lived more than a century. A diary is Nao's only solace—and will touch lives in a ways she can scarcely imagine. Across the Pacific, we meet Ruth, a novelist living on a remote island who discovers a collection of artifacts washed ashore in a Hello Kitty lunchbox—possibly debris from the devastating 2011 tsunami. As the mystery of its contents unfolds, Ruth is pulled into the past, into Nao's drama and her unknown fate, and forward into her own future.' 
I received this book free from the publisher in exchange for an honest review. Thank you, Canongate!
… Check out my full review here.
'Do No Harm: Stories Of Life, Death and Brain Surgery' By Henry Marsh
Non-Fiction
4 out of 5 stars
'In neurosurgery, more than in any other branch of medicine, the doctor's oath to "do no harm" holds a bitter irony. Operations on the brain carry grave risks. Every day, leading neurosurgeon Henry Marsh must make agonizing decisions, often in the face of great urgency and uncertainty. If you believe that brain surgery is a precise and exquisite craft, practiced by calm and detached doctors, this gripping, brutally honest account will make you think again. With astonishing compassion and candor, Marsh reveals the fierce joy of operating, the profoundly moving triumphs, the harrowing disasters, the haunting regrets, and the moments of black humor that characterize a brain surgeon's life. Do No Harm provides unforgettable insight into the countless human dramas that take place in a busy modern hospital. Above all, it is a lesson in the need for hope when faced with life's most difficult decisions.'
I read this book on my trip to Prague, and although it's not your typical holiday read I really enjoyed it! This book documents Henry Marsh's experience as a neurosurgeon at St George's hospital, where he makes life and death decisions. I love the honesty in this book, and although he initially comes across as a little pompous, I eventually came to like his personality and his funnier side. This book also documents some of the work he has done for charity in the Ukraine, working in extreme poverty.
'What Alice Forgot' by Liane Moriarty
Fiction
3 out of 5 stars
Alice Love is twenty-nine, crazy about her husband, and pregnant with her first child. So imagine Alice's surprise when she comes to on the floor of a gym and is whisked off to the hospital where she discovers the honeymoon is truly over — she's getting divorced, she has three kids and she's actually 39 years old. Alice must reconstruct the events of a lost decade, and find out whether it's possible to reconstruct her life at the same time. She has to figure out why her sister hardly talks to her, and how is it that she's become one of those super skinny moms with really expensive clothes. Ultimately, Alice must discover whether forgetting is a blessing or a curse, and whether it's possible to start over.
I enjoyed this book, but it did leave me wanting more. I was expecting a twist or unexpected turn, but that never happened. Overall a good story that wraps itself up nicely, I just would have liked more. Ok as a light and entertaining read whilst at the beach or on holiday, but not if you're looking for something that will keep you on the edge of your seat.
'Artemis' by Andy Weir
Sci-Fi
3 out of 5 stars
'Jazz Bashara is a criminal. Well, sort of. Life on Artemis, the first and only city on the moon, is tough if you're not a rich tourist or an eccentric billionaire. So smuggling in the occasional harmless bit of contraband barely counts, right? Not when you've got debts to pay and your job as a porter barely covers the rent. Everything changes when Jazz sees the chance to commit the perfect crime, with a reward too lucrative to turn down. But pulling off the impossible is just the start of Jazz's problems, as she learns that she's stepped square into a conspiracy for control of Artemis itself – and that now, her only chance at survival lies in a gambit even more unlikely than the first.'
This was a nice easy read, I did skip all the technical space terms, and I think the story could have done without it, but still an enjoyable read, and not something I would typically pick up.
'My Name Is Monster' by Katie Hale
Fiction
2.5 stars
'After the Sickness has killed off her parents, and the bombs have fallen on the last safe cities, Monster emerges from the arctic vault which has kept her alive. When she washes up on the coast of Scotland, everyone she knows is dead, and she believes she is alone in an empty world. Monster begins the long walk south, scavenging and learning the contours of this familiar land made new. Slowly, piece by piece, she begins to rebuild a life. Until, one day, she finds a girl: feral, and ready to be taught all that Monster knows. Changing her own name to Mother, Monster names the child after herself. As young Monster learns from Mother, she also discovers her own desires, realising that she wants very different things to the woman who made, but did not create, her.'
I received this book free from the publisher in exchange for an honest review. Thank you, Canongate!
… Check out my full review here.
'Admissions: Life as a Brain Surgery' by Henry Marsh 
Non-Fiction
5 out 5 stars
'Henry Marsh has spent a lifetime operating on the surgical front line. There have been exhilarating highs and devastating lows, but his love for the practice of neurosurgery has never wavered. Following the publication of his celebrated New York Times bestseller Do No Harm, Marsh retired from his full-time job in England to work pro bono in Ukraine and Nepal. In Admissions, he describes the difficulties of working in these troubled, impoverished countries and the further insights it has given him into the practice of medicine. Marsh also faces up to the burden of responsibility that can come with trying to reduce human suffering. Unearthing memories of his early days as a medical student and the experiences that shaped him as a young surgeon, he explores the difficulties of a profession that deals in probabilities rather than certainties and where the overwhelming urge to prolong life can come at a tragic cost for patients and those who love them.'
After reading 'Do No Harm' I was really excited to read 'Admissions' and I enjoyed this book even more than his first. 'Admissions' jumps between Henry Marsh's last few weeks in Neurosurgery before his retirement, his voluntary work in Nepal and the Ukraine after he has retired, and renovating his cottage by the canal in Oxford in which he will spend his final years. This book details difficult cases (both of his past and present) where he has had to decide between life and death, and faced the consequences of these decisions; his 'admissions' to making a mistake. Some of the stories are certainly tainted with regret and it makes you imagine a life where Marsh chose another area of surgery with a higher success rate and less fallout. However Marsh deals with these mistakes gracefully, and in the closing chapters of the book he faces the impending approach of his death. Recounting the deaths without dignity he had to witness, and discussing his views on voluntary euthanasia and his suicide kit, Marsh raises thought provoking topics that made this an honest and humble read.
'The Quality of Silence' by Rosamund Lupton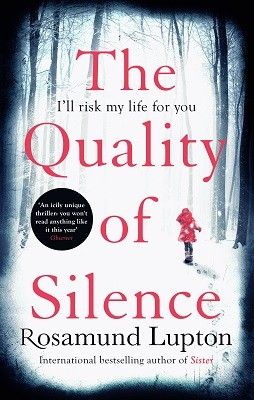 Fiction
3 out of 5 stars
On 24 November Yasmin and her ten-year-old daughter Ruby set off on a journey across Northern Alaska. They're searching for Ruby's father, missing in the arctic wilderness. More isolated with each frozen mile they cover, they travel deeper into an endless night. And Ruby, deaf since birth, must brave the darkness where sight cannot guide her. She won't abandon her father. But winter has tightened its grip, and there is somebody out there who wants to stop them. Somebody tracking them through the dark.
I really liked the characters and their dynamics in 'The Quality Of Silence'; watching the relationship between Ruby and her mum grow made the story enjoyable, and although there were other aspects of the plot that i didn't enjoy as much, this made it worth it. Seeing the frozen terrain of Alaska through the eyes of a death girl was inspiring and the descriptions were amazing.
Amy XOXO